The Royal Canadian Family Circus is on tour again and it's headed this way! We were fortunate enough to be able to attend this amazing display of incredible feats and performances last year, and we were absolutely wowed by it. The kids talked about the mesmerizing motorcycles and daring tightrope and acrobatic acts for quite some time afterward, so when they found out that the all new Royal Canadian Family Circus SPECTAC! 2018 was coming back, they were quick to ask if we could go. With 33 shows coming up here in the lower mainland, you can be sure to catch us under the big top again this year, and we want to see you there too!
From May 17 – June 10 2018, you can experience The Royal Canadian Family Circus SPECTAC! 2018 in Surrey, Richmond, Tsawwassen or Abbotsford for one of their 33 absolutely astounding shows featuring incredible talent from around the globe, and with our 2-for-1 promo code bcmom you can instantly save a few bucks too! And don't worry, there are no exotic animals involved!
Last year, our entire family was blown away by this very traditional circus and this year promises to be as good or better with moretop-notchh global talent!
The internationally renowned cast from throughout the world includes; the famed Guerrero 4 Man High Wire (America's Got Talent) from Portugal, the S Caleb Carinci – Asch Equestrian Acrobats from Europe, the Bilea Transformation Act from Romania, Gonzales Duo Aerial Act from Peru and Puerto Rico, the Juggling world record holder, Tommy Tequila, the sensational Trapeze, The Chinese Acrobats from the People's Republic of China, the TZ Aerialists, Hula Hoops and the death defying Wheel of Destiny with Joseph Dominik Bauer.
Joseph Bauer is not only a daredevil performer (9th generation!!) but he will be your Ringmaster as well! "It's an incredible showcase of elite circus artists from all around the world that has been designed for multi-generational families," says Ringmaster Joseph Bauer. "It's the essence of a traditional circus; this year families from across Canada will be fascinated by the amazing new global cast of performers coming to perform for families."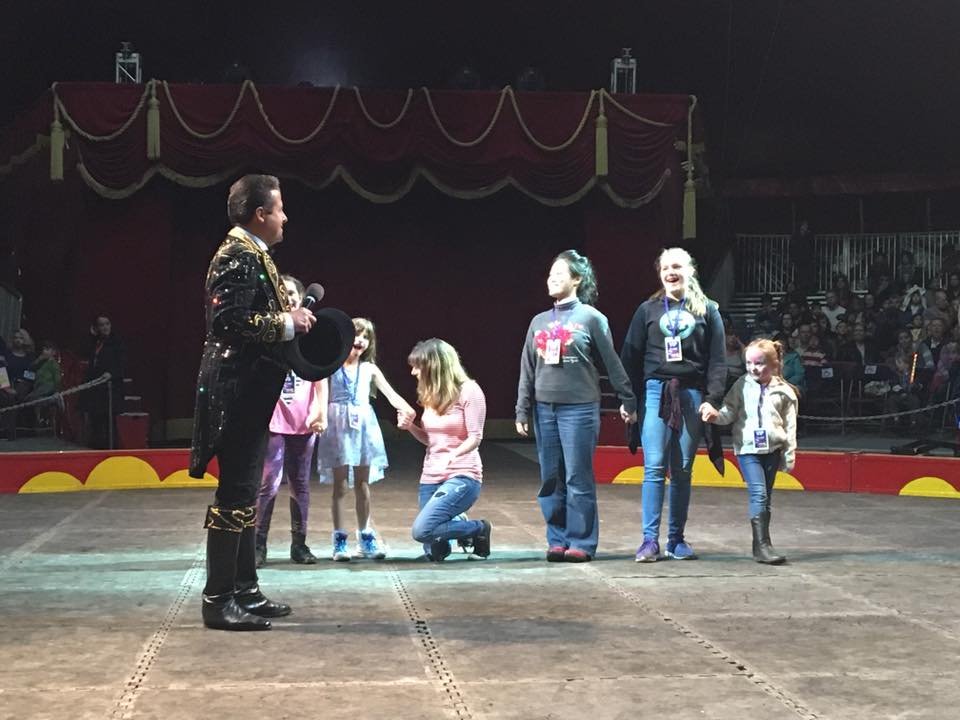 LOWER MAINLAND BC TOUR SCHEDULE
Surrey, BC, Guilford Town Centre, 10355 – 152 St, 11 Shows, May 17-21, 2018
Thu, May 17, 2018  7:00pm
Fri, May 18, 2018  4pm & 7:30pm
Sat, May 19, 2018  12Noon, 4pm & 7:30pm
Sun, May 20, 2018 12Noon, 4pm & 7:30p
Mon, May 21, 2018 1pm & 5pm                 
Tsawwassen, BC, Tsawwassen Mills, 5000 Canoe Place Way, 6 Shows, May 25-27, 2018
Fri,   May 25, 2018  7:00pm
Sat, May 26, 2018  12Noon, 4pm & 7:30pm
Sun, May 27, 2018 1pm & 5pm
Richmond, BC, Lansdowne Centre, 5300 #3 Road, 8 Shows, May 31-June 3, 2018
Thu,  May 31, 2018  7:00pm
Fri, June 1, 2018  4pm & 7:30pm                                                                       
Sat, June 2 2018  12Noon, 4pm & 7:30pm
Sun, June 3, 2018 1pm & 5pm                 
Abbotsford, BC, Tradex – S. Parking Lot, 1190 Cornell Street, 8 Shows, June 7-10, 2018   
Thu, June 7, 2018  7:00pm
Fri, June 8, 2018  4pm & 7:30pm
Sat June 9, 2018  12Noon, 4pm & 7:30pm
Sun, June 10, 2018 1pm & 5pm                 

TICKETS
On-Line Tickets are available at www.royalcanadiancircus.ca and don't forget to use promo code bcmom to get 2-for-1 tickets for general admission seating! And if you're feeling spontaneous, tickets are also available on-site at the Royal Canadian Circus Big Top Box Office on show days from 10am-8pm.
As a special bonus for our readers, we have 4 amazing prizes of a family 4-pack of tickets to giveaway to show and location, thanks to the Royal Canadian Circus! Want to win? We're giving away 2 sets of tickets here, and another 2 sets on our Facebook page! Make sure to enter both giveaways to double your chances to win!
See you under the big top!