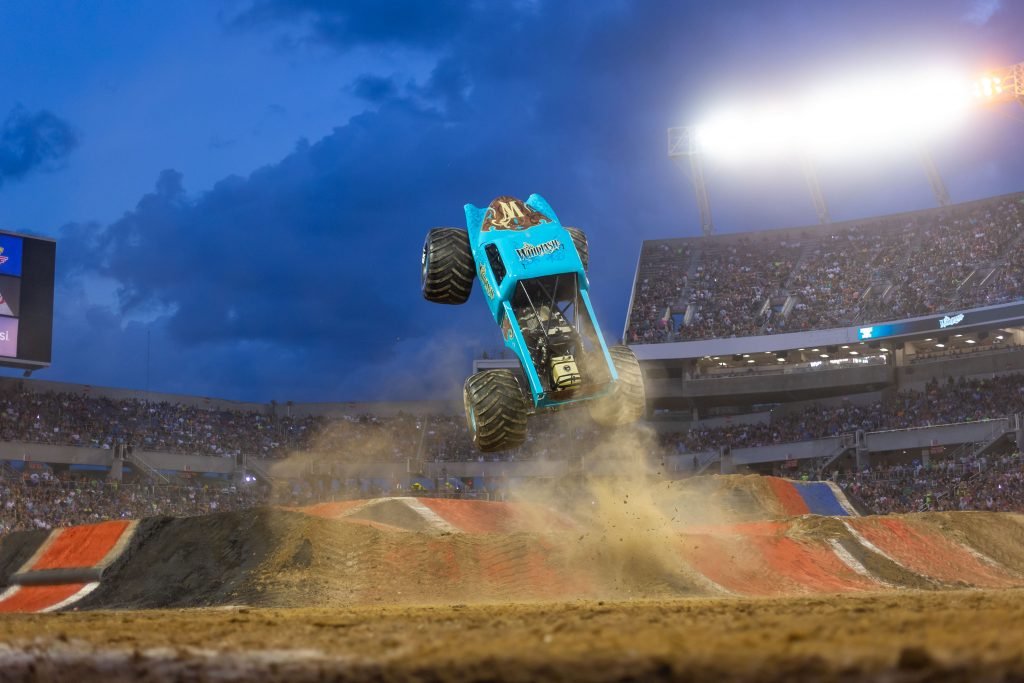 This. Is. MONSTER JAM! 
All I have to say is MONSTER JAM to any of the kids (big and small, looking at you hubby!) around us and immediately, their ears perk up. They remember the sounds echoing off the walls, the shaking from feet stomping, the dirt flying through the air and the smell of some of the biggest trucks ever to grace the Pacific Coliseum stage. Monster Jam is THE most action-packed motorsports experience for families in the world and it's returning to BC for one high-octane, epic weekend featuring the ultimate mix of high-flying action and four-wheel excitement!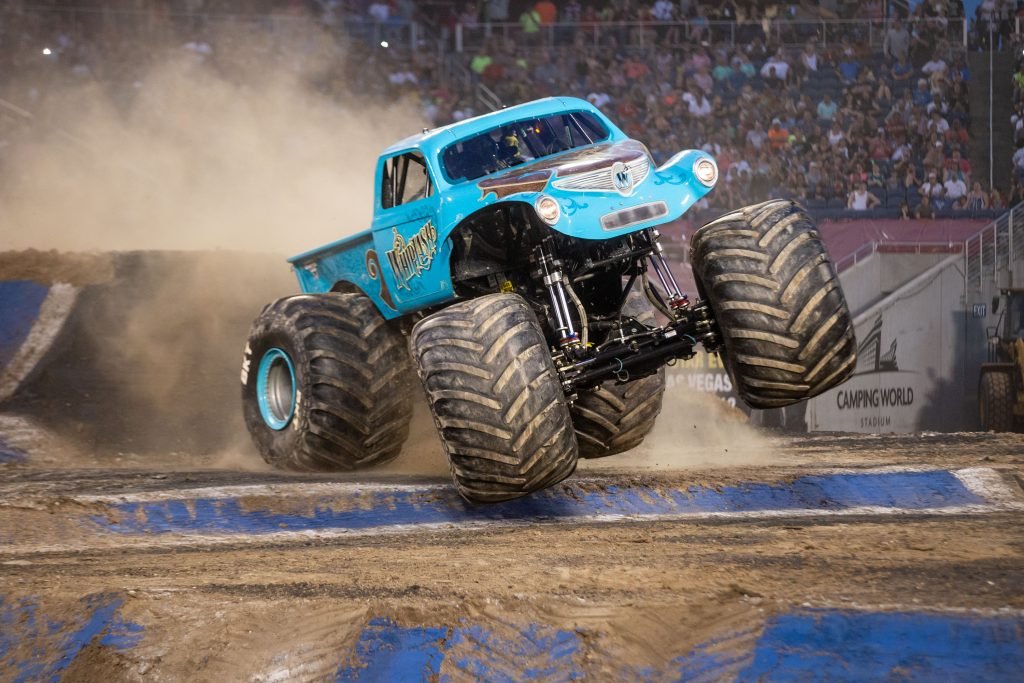 Kick off your Spring Break with the big leagues! Monster Jam will be in BC Saturday March 14 & 15 ONLY for one epic weekend event that you won't want to miss. Fans of all ages are invited to experience one of the most looked forward to events each and every year. This year's performance boasts a highlight of five Vancouver truck debut appearances including Dragon, Wild Side, Raminator, Rammunition and Just Get Er Done II.  From unbelievable action to unexpected thrills, this is full throttle family fun!
Monster Jam is the big leagues of motorsports competition, where 12,000-pound trucks and the world-class athletes who drive them tear up the dirt with gravity-defying feats. Engineered to perfection, the legendary Grave Digger®, Max-D™, El Toro Loco® and many more push all limits in Freestyle, 2 Wheel Skills Challenge™ and Racing competitions. testing their agility, speed and versatility.
Monster Jam drivers are trained, world-class male and female athletes who have mastered not only the physical strength and mental stamina needed to compete, but the vital dexterity to control 12,000-pound machines capable of doing backflips, vertical two-wheel skills and racing at speeds up to 70 miles per hour to produce jaw-dropping, live motor sports action seen around the world. On average, drivers complete over 100+ hours of training for not just driving, but also strict safety guidelines. Just take a peek at what they train for and what goes into each and every outfit you see the drivers wearing.
This will be our first year visiting the Monster Jam® Pit Party and not going to lie, kind of excited! At the Monster Jam® Pit Party, you can see the massive trucks up close, meet your favorite drivers, get autographs, take pictures and enjoy other family-friendly activities. It's an unforgettable part of the Monster Jam experience where lifelong fans are born. This is the chance to get up-close and personal and ask all those burning Monster Jam questions before you see the trucks perform! We have some pretty cool infographics that might even help answer some of those questions.
Plus, fans in every city can become part of the action by voting for the winner in the two-wheel and freestyle competitions via real-time, in-arena fan voting on their smartphones. Get ready to vote for your favourites!
MONSTER JAM EVENT DETAILS
WHEN:           Saturday, March 14, 2020
Pit Party open from 10:30 AM – 12:00 PM
(Sat. 1PM ticket & Pit Pass required for entry)
Event Times:  1:00 PM and 7:00 PM
Sunday, March 15, 2020
Pit Party open from 10:30 AM – 12:00 PM
(Sun. 1PM ticket & Pit Pass required for entry)
Event Time:  1:00 PM
WHERE:         Pacific Coliseum at the PNE – 2901 E Hastings St, Vancouver, BC  V5K 5J1
ADMISSION:
Tickets & Pit Passes are affordably priced for the whole family starting at $16+ fees – visit MonsterJam.com for price range information.
Tickets & Pit Passes are now available to purchase online at Ticketleader.ca, charge by phone at 604-252-3700 or in-person at the PNE Box Office.
PRO TIP: It gets LOUD at the show (and the louder the better!) and some kids can be sensitive to the noise. We highly recommend picking up ear protection in advance of the show. You can find these on Amazon for less than $20 a pair.
[This post shared with you in partnership with Feld Entertainment/Monster Jam. As Amazon Associates we early from qualifying purchases]