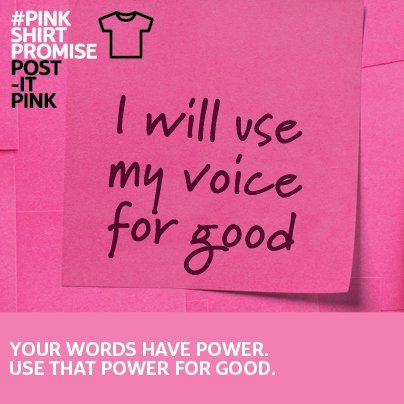 Bullying. It's a word that I thought I would eventually outgrow. When we're kids and bullied in school, we're always told that "it gets better when you're older". The fact is, it doesn't. A lot of bullying flows right over into adulthood, and with the help of social media and anonymity it's all the more rampant. Bullying experienced by children follows them into adult years – feelings of inadequacy, depression and anxiety are reported. Bullying, whether online, at school, or at work, affects people of all age groups, backgrounds, and genders. According to the Canadian Institutes of Health Research, 40% of Canadian workers experience bullying on a weekly basis and 47% of Canadian parents report having a child victim of bullying. I've personally shared my history with bullying each year, and encourage you to share yours – use your voice for good. <3
In support of Shaw Communications' #PinkShirtPromise campaign, Post-it® Brand* and Metropolis at Metrotown are embarking on an interactive initiative to end bullying in Canada. Beginning February 11, 2016, customers will be invited to write a promise to help end bullying and see their positive message on the Post-it Pink wall in Grand Court from February 17-24, 2016.
One of my favourite features at Metropolis at Metrotown is the custom, 70 foot elevator light curtain and if you take part in the #PinkShirtPromise, you'll be able to see your photo larger-than-life on this amazing screen! For every promise customers post on the wall, or light curtain photo, Metropolis at Metrotown has committed to donating $1 to the CKNW Orphans' Fund, up to $5000 to help end bullying in our community.
Not able to make it into Metropolis during the contest period? To connect with the tech-savvy audience, Metropolis at Metrotown is also collecting #PinkShirtPromise pledges online at https://pinkshirtpromise.metropoliscontests.com. For every digital pledge made, $1 will go to the CKNW Orphans' Fund. One lucky grand prize winner will be awarded a $500 shopping spree and a $500 gift card for a local charity.
Throughout the campaign, each promise made using the #PinkShirtPromise hashtag on Twitter, Instagram, and Facebook will be eligible for a chance to win an ET Canada Experience, which includes flights for two to Toronto and two nights hotel accommodation, and a $1,500 dollar shopping spree at Metropolis at Metrotown.
Pink Shirt Day is the perfect opportunity to talk. Open the lines of communication with your children. Discuss consequences, lasting effects, your own personal experience. Bring them down to Metropolis at Metrotown on February 24th, grab your pink shirts (Available from London Drugs or the Boys & Girls club for $7.00) and make your #PinkShirtPromise. Students from the nearby Maywood Community School will be committing random acts of kindness to surprise and delight shoppers, plus round out the event with a flash-mob dance performance in Grand Court at 11:30am.
"By taking part in Pink Shirt Day and raising awareness through the #PinkShirtPromise campaign, Metropolis at Metrotown is actively promoting kindness, solidarity, and tolerance," said Mary-Jo Johnson, Director of Metrotown Properties. "We always look for new and better ways to actively support causes that can make a difference in the community."
According to Prevnet.ca;
Children who are bullied suffer more headaches, stomachaches, depression and anxiety. Mental health problems associated with bullying tend to last until later in life.
Children who bully, and those who are bullied, are at greater risk of suicide.
Children who bully, and those who are bullied, will be more likely to miss school, show little interest in their studies and suffer poor grades.
Children who bully are more likely to use drugs and alcohol and engage in criminal activity. According to one of the world's leading researchers on bullying, 60% of boys who frequently bullied others in elementary school had criminal records by age 24.
Approximately 12% of girls and 18% of boys reported bullying others at least twice in previous months. 15% of girls and 18% of boys reported being victimized at least twice over the same time period.
Bullying won't stop with a Pink Shirt, it stops with us. Will you join us in the #PinkShirtPromise? 
Contest!
Metropolis at Metrotown wants to share a random act of kindness with one of our lucky readers! Enter below for your chance to win a $100 Metropolis at Metrotown Gift Card! Contest is open to residents of British Columbia. Contest ends February 24th, 2016 and the winner will have 24 hours to claim their prize before a new winner is drawn. Good luck!
Would you like another chance to win? Head over to Styling The Inside, who also has a $100 Gift Card giveaway! Good Luck!