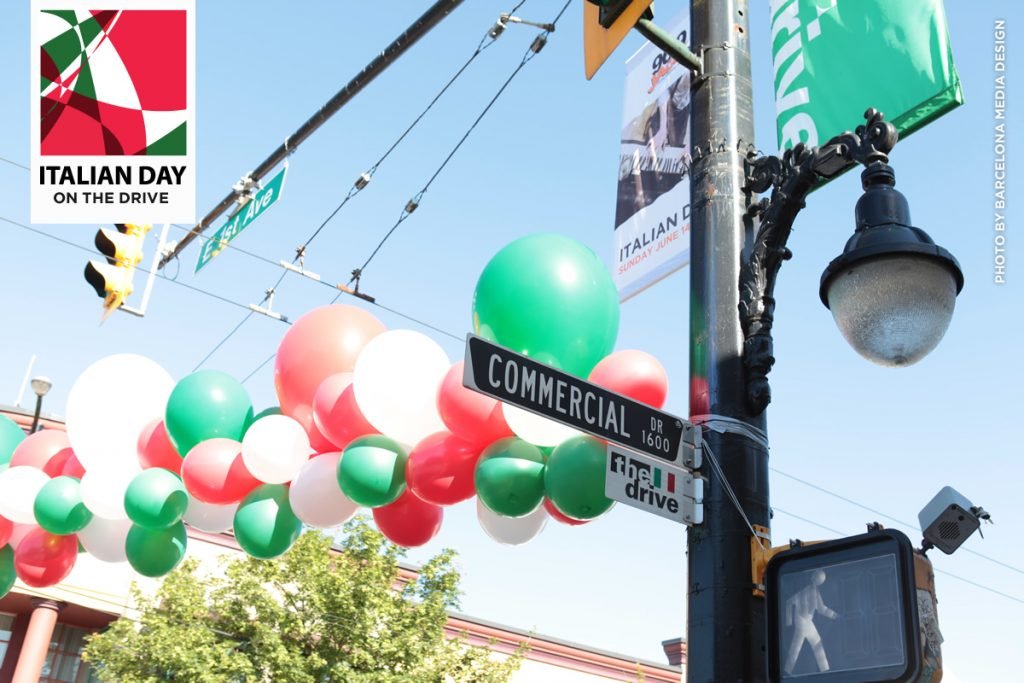 We live in a very traditional Italian neighborhood in the Heights, with family run businesses that line the streets from bakeries, to delis to restaurants – we've fallen in love with the Italian culture and all it has to offer. Italian's share their love through food and it's evident in the way they prepare and present their amazing, flavourful family recipes – I've been known to negotiate with my neighbor for few jars of her homemade spaghetti sauce because nothing compares! With a love of the food, we'll definitely be making time to visit the Italian Day street festival on Commercial Drive this weekend, will you be joining us?
Now in its 7th year, the annual Italian Day street festival returns to Commercial Drive for this highly anticipated one-day event. As Vancouver's largest cultural street festival, drawing over 300,000 attendees and spanning 13 blocks, the Drive will come alive in a sea of green, white and red, featuring entertainment, activities, vendors and attractions. This year's theme represents a favourite Italian pastime – eating! Mangiamo!
Carrying special significance this year is the eight-block official 'Little Italy' designation on Commercial Drive, which was approved by the City of Vancouver this past April. The designation celebrates over 60 years of Italian heritage on The Drive, which is a thriving heart of close to 30 Italian businesses today, some of which have been on the Drive for over 50 years. With so many family run businesses, it's the perfect place to discover some old favourites and some new delicious stops on The Drive.
Now, It wouldn't be an Italian celebration without all of your favourite Italian foods: pizza, pasta, cannoli, sfogliatelle, arancini, polpette, panini, gelato, granita, and coffee in all forms, as well as samplings of olive oil, cheeses and salumi, right? With close to 150 vendors and merchants participating, attendees can also indulge in the Mangiamo! theme 'al fresco' with over 20 patios, as well as cooking demonstrations at the La Grotta Del Formaggio piazza attraction (4th Ave), featuring presentations on sausage making and quick Italian meals. Come hungry!
Be prepared to make a day of the festival, from the food and demonstrations to the live music from three separate stages and several DJ Music tents, Italian Day is packed with entertainment from one of The Drive to the other. Highlight performances will include local Italo-Canadian music celebrities, Federico Fuoco and Carmelina Cupo on the 2nd Ave Main Stage. On the Grant Street Stage, programming by Il Centro (Italian Culture Centre) will include jazz, theatre, and opera featuring the Cory Weeds Quartet and the Vancouver and City Operas. In Grandview Park, complimenting a large food and family activity piazza, entertainment on the Amphitheatre Park Stage will range from theatre, to live music, to contests and more.
The festival is perfect for the whole family with tons of activities including: human foosball games, bicycle polo, crafts throughout the street, Il Centro's Kid's zone in the park, garden and food themes at Vancity Piazza, classic vehicle exhibits featuring vintage cars and motorcycles, new Ducatis and Fiats, Car2Go and more. Don't forget to buy your Italian Day raffle tickets with a combined prize value of $6,000. First Prize is an Air Transat trip for two, Vancouver-Rome direct! I know where I'm headed first… I need a vacay!
Event Details: Italian Day on The Drive
Where: Commercial Drive (from Venables St. to Grandview Cut)
When: Sunday, June 12, 2016
Time: 12:00 pm – 8:00 pm
Getting there: Given street closures and limited parking, Italian Day Festival organizers encourage attendees to walk, cycle, transit or Car2Go to the event (some Car2Go member parking will be available, as will bicycle valet at 1st & Commercial). The Skytrain station is located on Broadway & Commercial.
For more information visit www.italianday.ca. Connect on Twitter and Facebook at @ItalianDay and join the conversation using the hashtag #ItalianDay.
We hope to see you there!