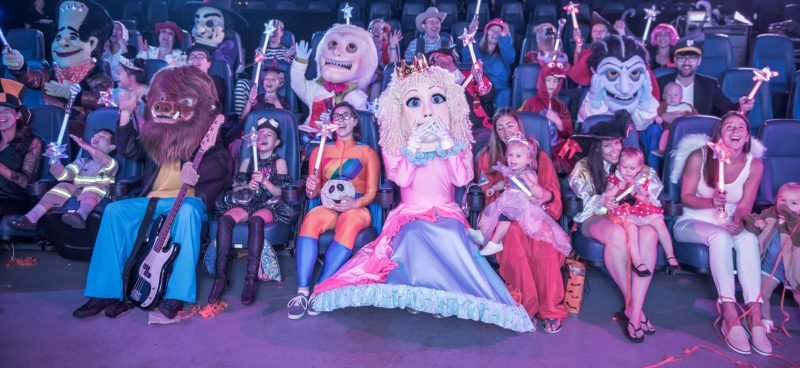 Are you ready to be spooked… and by spooked, I mean giggle and have some fun laughs with some seriously silly (but trying to be a little scary!) characters? There is a new family friendly live show event traveling into Metro Vancouver Cineplex theatres and it the perfect way for families to explore the magic of Halloween, without the scary.  Get up close with Vinnie the Vampire, Wendella the Witch, Wolfgang the Werewolf and many more interactive characters and help Zoe and Justin on their quest to save Halloween!
"The Great Big Boo!" combines the best of musical theatre and the Halloween tradition of trick-or-treating in a fun theatre experience that is sure to delight all ages.
The 50-minute non-scary live show follows the story of Zoe and Justin who sing and dance their way through Boo Alley on a quest to save Halloween, meeting larger-than-life characters along the way. The show features a dynamic original score and spectacular dance numbers. After each show, the audience will be invited to meet the stars and join them for a fun, trick-or treat event.
"Halloween is truly a holiday for children, a chance for them to pretend and have fun," says Patrick Roberge, President of Wondersee Entertainment.
"The Great Big Boo! embodies this in a spirited musical-theatre way that is fun for all ages. This new national holiday tradition, is a unique show that will bring families across Canada together to share quality time, entertainment, and some trick or treating fun.
"We're delighted to partner with Cineplex and Wondersee on this national event," says Doug Murphy, CEO and President of Corus Entertainment. "Corus is known for its top-notch kids and family television content. "The Great Big Boo!" fits perfectly under our Corus Live banner, which was created to provide amazing—and unique—live experiences to our audiences. This is simply a wonderful opportunity for us to connect with kids and families in a fresh, new way."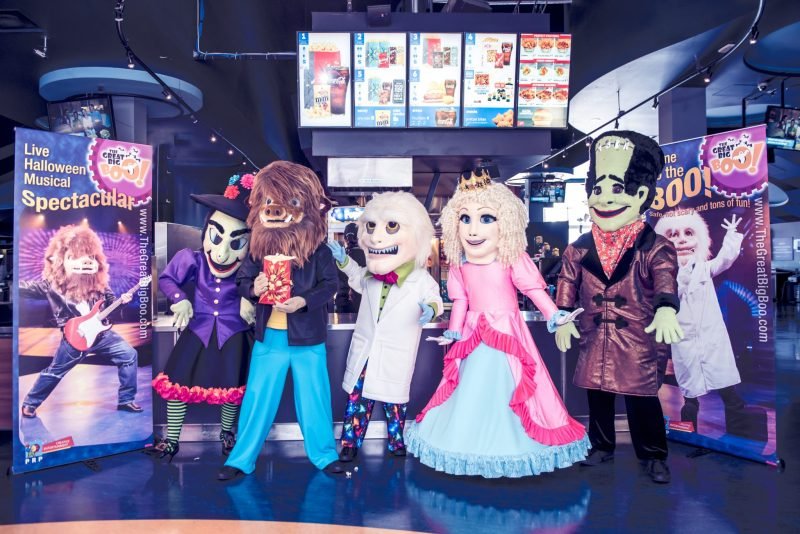 "The Great Big Boo! is a one-of-a-kind event for Cineplex and we are delighted to have Wondersee and Corus Entertainment as our partners," said Brad LaDouceur, Vice President of Cineplex Events, Cineplex.  "As a leading entertainment and media company, we are moving towards enhanced experiences within our theatre environment which The Great Big Boo! aligns with perfectly. We are looking forward to welcoming Canadian families to take part in this unique experiential live-action event this Halloween season."
This fun-filled, must-see show is scheduled for 70 shows in 40 markets across Canada from October 18-30, 2017, including Kamloops, Coquitlam, Langley, Richmond, Burnaby, Victoria and Nanaimo in British Columbia! The show is appropriate for all families and specifically for children aged two to twelve. Tickets are priced at $22 per person and include trick-or-treating with the characters.
Things to know:
This show is all about Halloween, so feel free to come dressed up!
You are allowed to take photos during the show, the bigger the smiles the better.
Strollers are not allowed inside the theatre and each location has different stroller policies, it is best to leave them in the car.
There will be The Great Big Boo! swag available for purchase before the show in the lobby.
For more information regarding "The Great Big Boo!", to search for show locations or to purchase reserved tickets please visit www.thegreatbigboo.com/
Want to WIN tickets to the show? Head over to our Facebook Page @Bcmomdotca between October 10-20 to enter to win two tickets for the 4:00pm show on Wednesday, October 25 show at Silvercity Metropolis Cinemas in Burnaby!
{This event is shared with you in partnership with The Great Big Boo!}