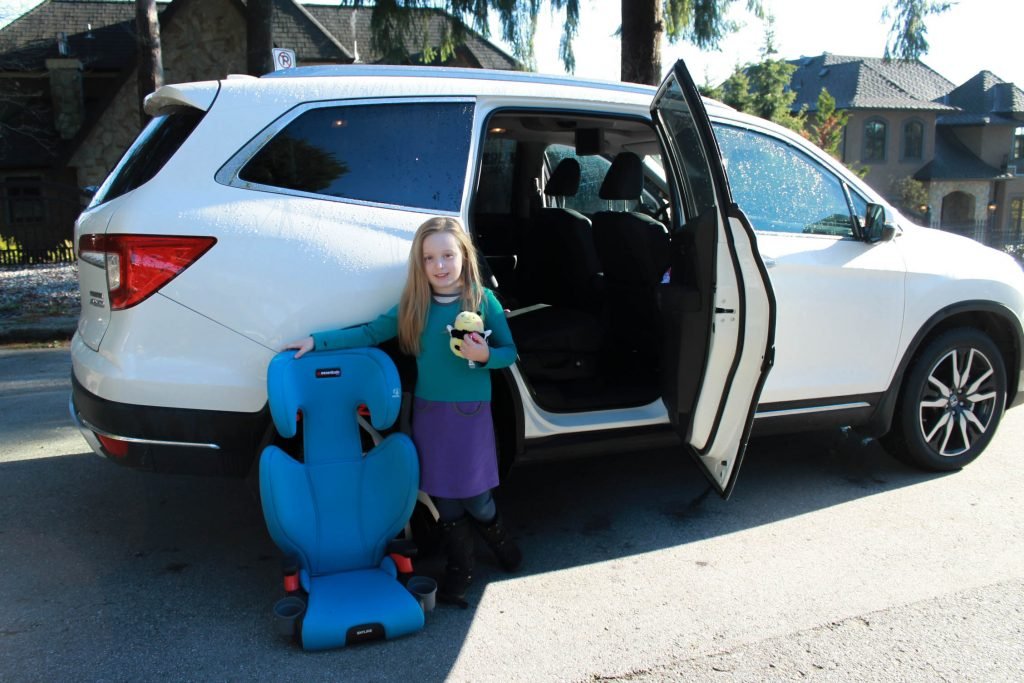 It's been a big year around our house, like WAYYYY too big. So many big firsts for someone who was once so little. I'm a bit of a self proclaimed car seat crazy lady and admittedly; I wasn't quite ready for this next big step. We're officially out of a 5 point harness car seat and moving on up into a Booster – thanks to Britax! We've officially graduated to the Essentials by Britax Skyline Booster Seat.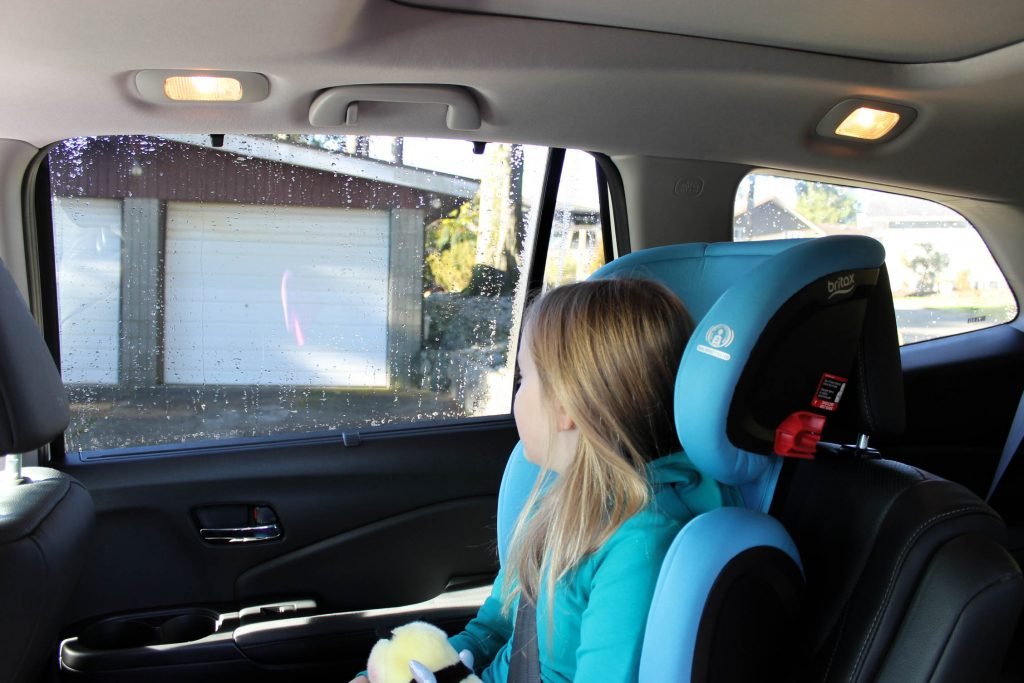 Raising kids can be challenging on the best of days. Parents stress over every detail from food, toys, school and more. Car seats are right up there with the big life decisions and given that most car seats last years, it makes sense to get one that is going to work the best for your child and your family. I'd love to say all car seats are the same, but after having owned a few different ones I can confirm, not all car seats are created equal. Yes, they do all meet the same safety standards, but not every car or family is created equal either! For us, it's important that a car seat fits comfortably in the backseat and still allows use of the middle seat as we often transport more than one kid. We've had seats that were too wide, too tall or not tall enough, seats that didn't grow with Alivia or work with our super tall kid.
Being able to find the right seat for the right stage in our car seat journey is a blessing in disguise, it's one less thing we have to worry about.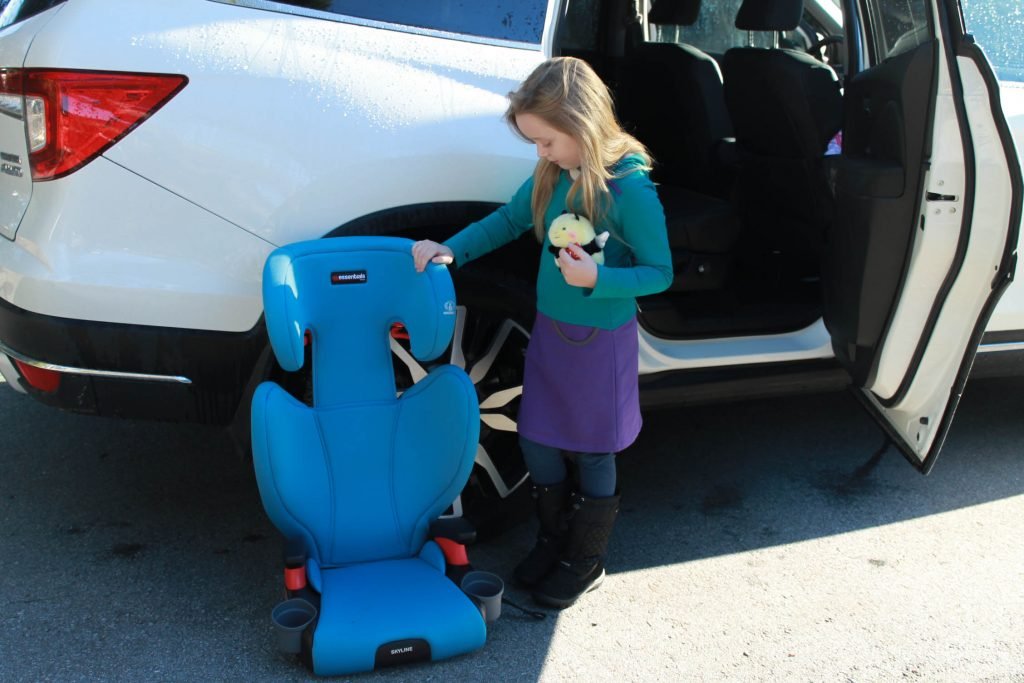 Car seats have come so far since I was a kid, now we have rear facing, forward facing 5 point harness, forward facing booster, low back booster… and honestly, for any parent, this can make our heads spin! Early on I did a ton of research and Britax has always been our go-to seats from infant right up to gradeschooler. We travel a lot around the lower mainland so for us, having a car seat that not only offers the best protection available to us but also comfort was a no-brainer.
While Alivia meets the requirements to be a backless booster she still falls asleep on long car rides and backless boosters don't offer the same support as a highback in keeping kids in a safe position. She also still meets the suggested recommendations to still be in a high-back so here we are, we always err on the side of caution and outgrow each stage before moving on. Car seat suggested guidelines vary by location, so we encourage you to research what will work best for your child.
When the Essentials By Britax Skyline Highback Booster showed up, Alivia was thrilled! She was excited to "graduate" and we went through everything she may love about the seat. Unlike a lot of narrower seats, the Skyline has a spacious design with deep side walls that are not only there for comfort but also to offer full head, torso and pelvic side impact protection.
With the colour-coded vehicle belt guides, it's super easy to properly position the seat in most cars. The easy belt guides also help to position the seatbelt where it is needed the most. Across the child's hips/lap and over their shoulder.  We loved that the head restraint adjusts to 10 different positions, ensuring a proper fit for even the taller kids (like mine!). She's partial to the dual cupholders, one to hold her drink and one for whatever toy she happens to drag into the car that day. I'm partial to the fact they come OUT and are dishwasher safe!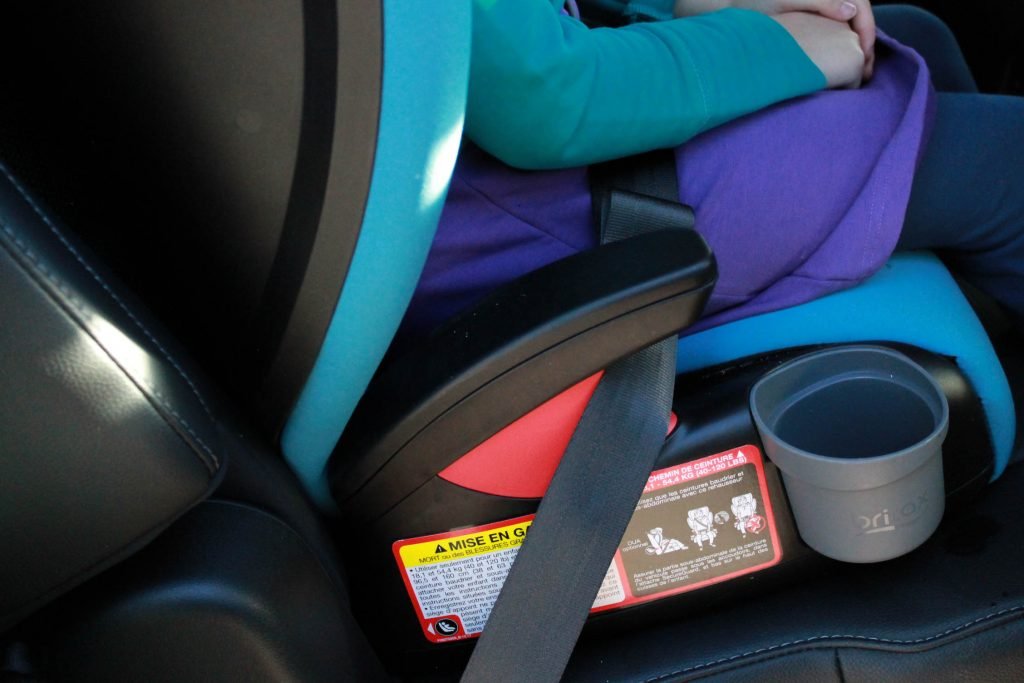 For a bit of added protection, the Skyline also has push-button lower connectors that secure to through the LATCH seat system in most vehicles. I was expecting this part to be tricky, I hated the LATCH system with our full cars eats but surprisingly, the Skyline was SUPER easy.
There is a push button on the side to loosen the latches and tighten, no more trying to pull them while on top of the seat in the car. The seat is light enough to not feel cumbersome when moving it between different cars or bringing for school field trips and without the manual, there are very clear instructions printed on the seat for whoever may be installing it.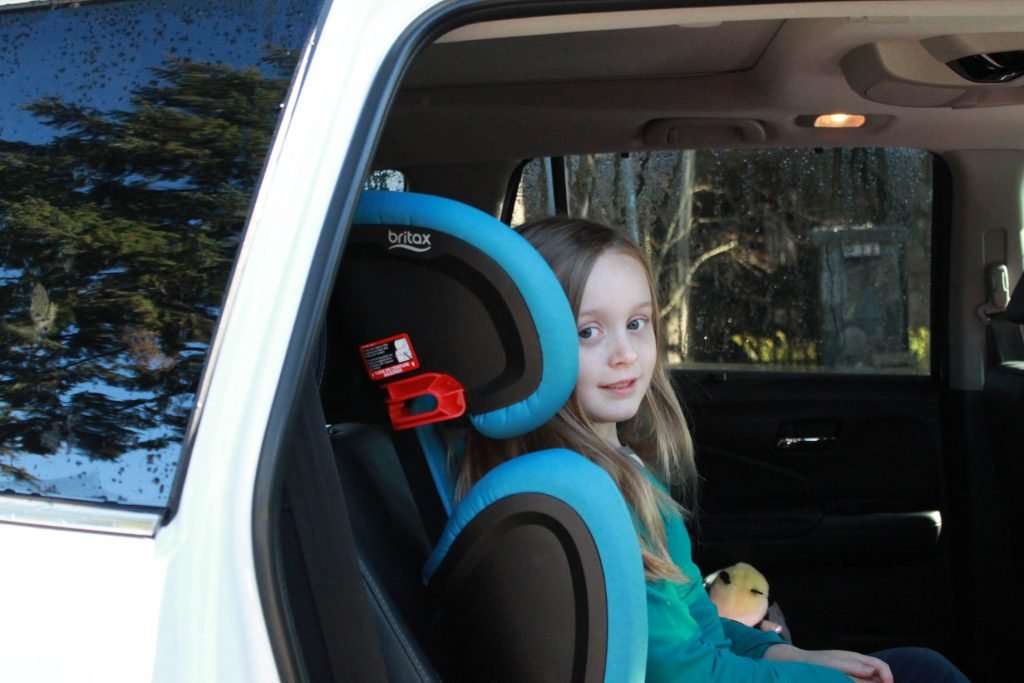 The Skyline belt-positioning booster also helps out mom and dad, once the belt is threaded through the belt positioners, they don't need to be adjusted again for a while. Meaning the kids can get in and buckle themselves in without needing any extra help. Alivia loves that she can do it all on her own now and doesn't need our help!
Seat Statistics:
Child Weight Capacity: 40 – 120 lbs
Child Standing Height: 38-63″
Child Seated Shoulder Height: 15-21.5″
Seat Weight: 12.5lbs
Full transparency, we absolutely do love this seat but the tilted, non-removable headrests in my 2010 Dodge Caliber do not allow for a full tight fit. It seemed to work much better in her dad's Toyota. For this post, we installed it in a 2019 Honda Pilot with zero issues. We definitely recommend testing the seat, reading the car seat manual and your own car manual to confirm this seat can be safely installed in your vehicle – just in case!
We are upgrading one of our cars this year so I'm confident the switchover with the Skyline will be pretty seamless and easy. The Skyline will be the last seat we'll probably need for some time as it has a 10-year expiration date so I'm excited that it fits perfectly with our lifestyle. You can grab yours for $149.99 on Amazon.ca , Walmart.ca , Find your local retailer on Britax.ca or your local baby store.
Do you follow recommended seat guidelines or wait until the child maxes out the requirements on their seat? I'd love to know, share with me below!
{Britax provided us this seat to facilitate this review. This post may also contain affiliate links. As an Amazon Affiliate, we earn a small commission on purchases}