"Out came the sun and dried up all the rain! So Mommy and I went out to dig in the garden once again!"
Yes, it's November, but guess what? My mums are blooming! Its been raining for days and days, typical Vancouver, but today is sunny and warm and a great day to tidy up the lawn and garden and take down our Halloween stuff. Its ALSO a great day to try out my new gloves from Dig It Handwear!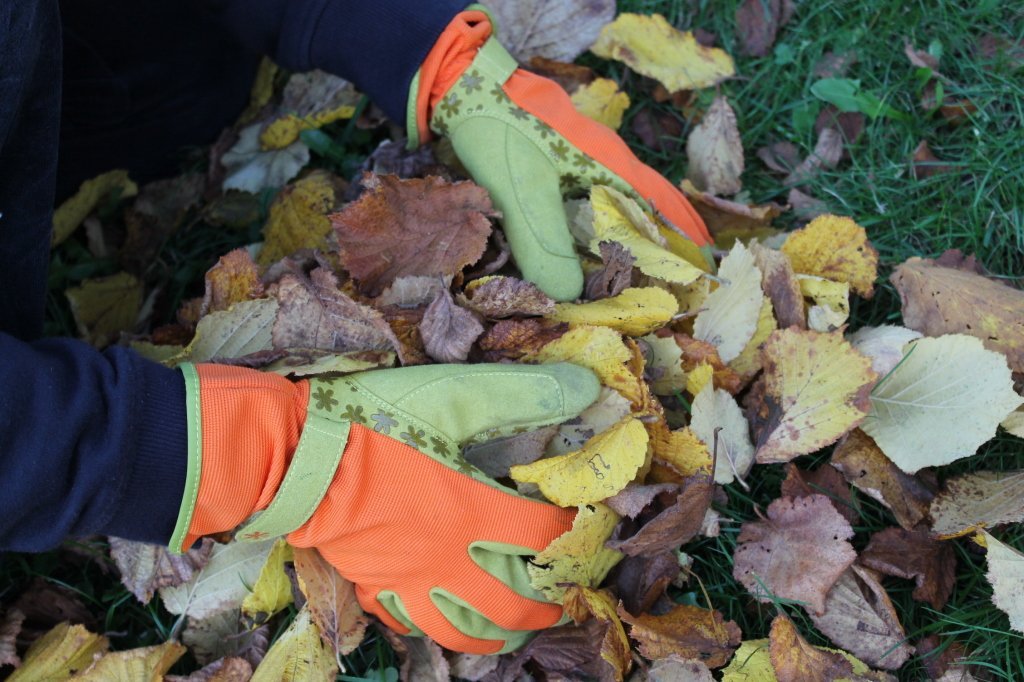 These gloves, made exclusively for women, are not your ordinary work or garden glove, oh no! What makes them unique is the 'revolutionary pillow-top protector built inside each fingertip to maximize protection' of your manicure! Made from recycled materials to reduce their carbon footprint, these gloves are washable, breathable and water resistant, and have a cute flower patterned grip on the palm. Despite the flowered palms and the manicure protection, these gloves are not your typical girly gloves- they don't come in pink! Dig It Handwear comes in a high visibility orange/yellow combo that make them the perfect choice if you work in construction or other fields where high visibility is a must. It also makes them easier to find in my closet and shed.
When I wear regular gloves I generally get the same protection from dirt or injury, but when I'm digging in the garden, my nails tend to bend inside the gloves.  This results in cracked polish at the best of times and a cracked nail at the worst of times. With the Dig It® gloves, my nails are shielded from most of the stress and pressure as the nails do not touch the actual glove itself!
Dig It® Handwear isn't just for gardening, they are a multi-purpose glove that can help protect your nails during gardening, everyday chores and do-it-yourself projects. We do recommend making sure to measure your hand from wrist to the top of your middle nail, especially if you tend to wear your nails a bit longer. The gloves should fit snugly, but not be uncomfortable.
Designed by women for women, these revolutionary gloves were also featured on Dragons Den in 2009 and sealed the deal with Mr Kevin O'Leary.
The Dragons love them, we love them, and we want you to love them too! The wonderful Dig It Handwear team has generously given us 2 sets of gloves to give away to a lucky reader, so nominate a deserving woman who deserves to keep her manicure protected below!

Connect with Dig It Apparel
Enter to win your own set (and one to share!) of Dig It® Handwear.