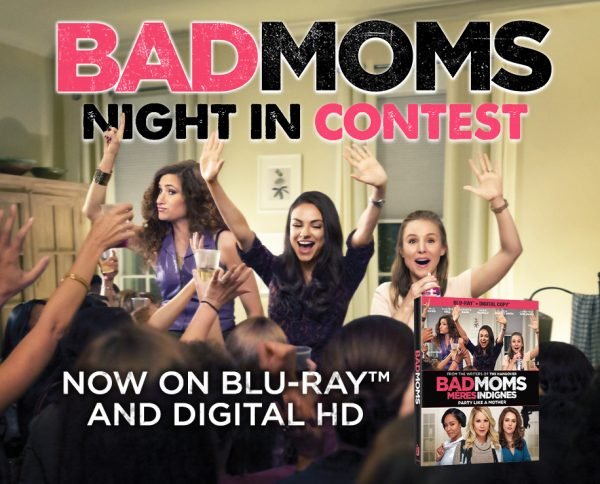 You ever see a movie that you just relate to immediately? That has you laughing so hard your sides hurt and you're wiping away tears? That was Helisa and I at the premiere of Bad Moms. Sometimes you just need a little reassurance that you're not alone in the lunch time wine drinking, bake sale avoiding craziness and hot messness that is motherhood.
We're all bad moms at one point or another, I'll openly admit to letting my kid wear her Halloween costume to school in June just to avoid an argument or the time I forgot it was a special day at school and was cornered by a 5-year-old on the playground with a scolding glare. Or, all the times I've tried to squeeze in just 5 more minutes of glorious sleep by saying YES you can eat the doritos on the table for breakfast. I felt like a bad mom, and then I realized…. We've ALL been there! Bad Moms has the perfect amount of comedy and heart to hearts to remind you that you're not alone in motherhood.
In this new comedy from the writers of The Hangover, Amy has a seemingly perfect life – a great marriage, over-achieving kids, beautiful home and a career. However, she's over-worked, over-committed and exhausted to the point that she's about to snap. Fed up, she joins forces with two other over-stressed moms on a quest to liberate themselves from conventional responsibilities – going on a wild, un-mom-like binge of long overdue freedom, fun and self-indulgence – putting them on a collision course with PTA Queen Bee Gwendolyn and her clique of devoted perfect moms.
If you missed this must-see chick flick in theatres, you're in luck! Bad Moms will be released on Blu-Ray and digital download TODAY (November 1, 2016) and just for sharing your #BadMomsNightIn you can enter to win some pretty sweet prizes. Whether you relate more to Amy or Gwendolyn, every mom needs a break after all, right? So hang up the perfect lunch making hat, leave the laundry unfolded for a few hours, order pizza and take the night off.
Have a few mom friends who could use a laugh with you? Invite them over for a party and snap a photo of you and your bad mom besties and share with the hashtag #BadMomsNightIn to be eligible to win a pretty sweet grand prize that includes a $500 Fairmont Store gift card & Bad Moms Swag! Make sure to head over to eOne Films Facebook page for info on the contest and get your entries in.
If you're ready to host and rock your Bad Moms party, make sure to enter below to win a prize pack that is going to make you the envy of school drop off, from branded Bad Moms swag to Gaiam goodies to help you unwind after a day full of work and school activities – this will definitely kick start your party!
One lucky fan is going to win a Bad Moms Prize Pack including;
(1) Gaiam Hot & Cold Neck Cradle available at www.gaiam.ca
(1) Gaiam Lavender Eye Pillow available at www.gaiam.ca
(1) Copy of Bad Moms on Blu-ray
(1) Bad Moms Cocktail Shaker
(1) Bad Moms Shot Glass
(1) Bad Moms Wine Glass
(1) Bad Moms Tea Set
(1) Bad Moms Sleep Mask
a Rafflecopter giveaway

Bonus; we also have a discount code available for our readers to use on Gaiam.ca or Fairmont Store products!  Use the code BadMoms20 and receive 20% off your order.  Discount is valid from now through 11/30 and is applied to the pre-tax total before shipping costs.
Good luck!