Redwood Park, located on over 80 acres is a gem hidden in South Surrey. Originally owned by twin brothers who were given 40 acres each from their father; they had a passion for exotic trees and filled this beautiful park with 32 different species native to North America, Asia and Europe. The brothers lived in a tree house on the property and a replica is located right by the trails. You can't go inside, but it's still super neat to look at! With pristine, large mature trees it's easy to spend a day walking, exploring and learning in this beautiful park. The nature trail is approximately 5.2 kilometres, give yourself at least an hour for that walk (a bit more if you have littles following and exploring!).
We decided to head out to Redwood Park on a cooler day, with the tree coverage it was the perfect temperature to explore and walk the trails. With generous grounds and plenty to see around every turn, it made for the perfect family adventure and one we repeat often.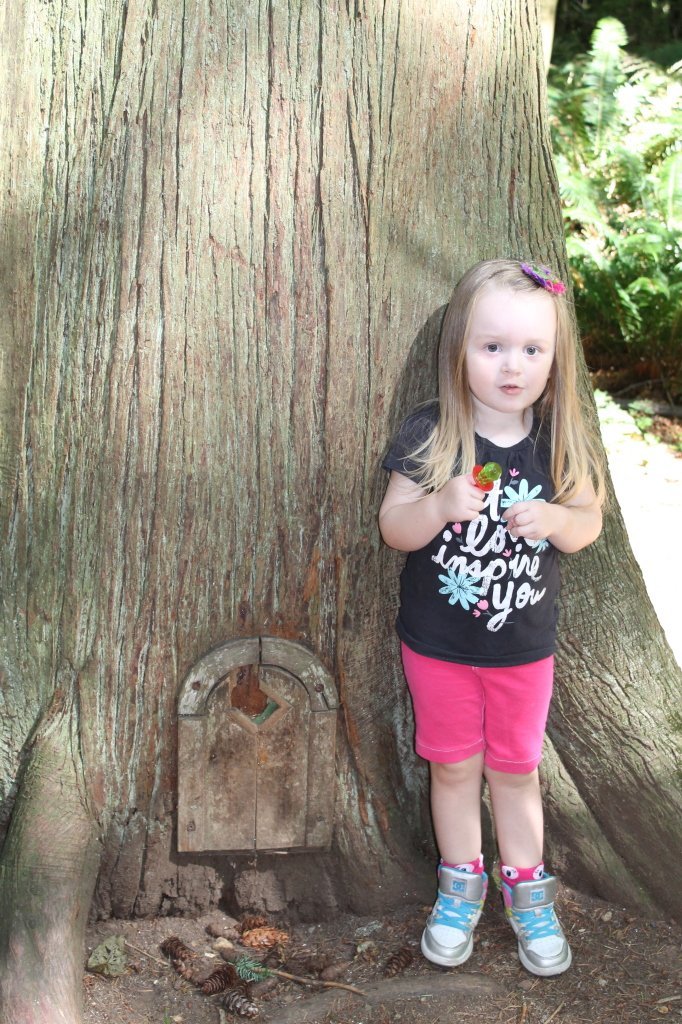 We had been told in the past that Redwood Park is the home to magic fairies so we definitely hyped that up a little bit to Alivia and told her we were going to hunt for their special fairy doors and see if any were home!
The originally fairy doors have been damaged by vandals over the years so there are only 2 remaining.. but that didn't stop the community from flooding in with their own version of the fairy doors to keep the spirit alive.
We were fortunate enough to stumble across the fairy doors around the same time as a birthday scavenger hunt, the kids were hunting for troll treasure (hence the ring pop!). It's a great idea for a birthday party that will get the kids moving and have a fun story to tell after the party. There are plenty of picnic tables around the park to have a kids birthday and tons of room to roam. The fairy doors can be a little tricky to find if you don't know where you're headed, so follow the trail past the signage up above, you'll hit a big treehouse structure and walk to the right and follow the path. Keep a close eye out though or you might miss them tucked into the alcove area.
We had a great 2 hour walk through the woods, finding sticks and lots of spiders! After that we headed to the playground, it was hard to pry Alivia away at the end of the day. The playground is quite generous and has 2 separate playing areas, one for older kids and one more geared towards toddlers. It's a great mix of activities that guarantees they won't get bored. I was grateful for a moment to sit down and appreciated that the benches were situated in areas that gave an entire view of the playground. With a separate sand box area for digging and getting dirty there's something for every age range at this playground.
On the frugal side of things; You can't get much more frugal than a free trip to the park. With endless trails and a huge playground equipped for every child (it boasts a playground equipped for children with mobility challenges, it's pretty awesome). Pack a picnic lunch, bring some beverages and enjoy lunch by the playground. With the parking lot a close walk you can stash away bags before heading on a trail walk.
For an added bit of fun, let the kids decorate their own fairy door or house and bring it along. If you plan to leave a door make sure to either lean it against a tree or hang it on a string. Nailing them to the trees can harm them and the city may remove your door!
17900 20 Avenue, Surrey British Columbia
Plenty of free public parking on the grounds
Playground accessible for children with special needs
Have you visited Redwood Park? What's your favorite memory?